Are you here after watching Netflix's latest reality show Too Hot To Handle? In a particular episode of the show, you can see a bondage expert giving lessons about the Japanese Shibari. Or, maybe you've heard about Shibari from a popular BDSM movie, and now you want to try it with your partner to spice things up in the bedroom.
Whatever the case is, if you're here to learn more and everything about the Japanese Shibari, just read on!
What is Japanese Shibari?
The terms "Shibari" and "Kinbaku" are interchangeable and carry similar meanings. Shibari means "tying," or "binding," while Kinbaku refers to "tight binding." However, in BDSM, both the terms commonly refer to erotic and functional rope bondage influenced by Japanese aesthetics.
Shibari is most popularly used in the Western BDSM culture since the 1990s, referring to erotic decorative bondage. 
Japanese Shibari involves tying or binding a person with multiple ropes in simple but visually complicated knots and patterns. In Japanese culture, the ropes are either hemp, jute, or linen and known as "asanawa." However, in contemporary Shibari, most couples also use gentler ropes made of cotton, silk, and other soft fabric.
If you and your partner want to take your bondage activities to the next level, Shibari may be exactly what you're looking for!
History of Japanese Shibari
The inception of Kinbaku or Shibari was from "Hojōjutsu." Hojojutsu was a tradition prevalent in ancient Japanese culture, which involved tying prisoners with different knots as per their social status. Japanese Shibari was introduced by Seiu Ito, also known as the "father of Kinbaku," when he started researching Hojojutsu.
Shibari became popular in Japan during the 1950s through various magazines, including Yomikiri Romance and Kitan Club. These magazines were the first ones to publish raw and naked bondage pictures.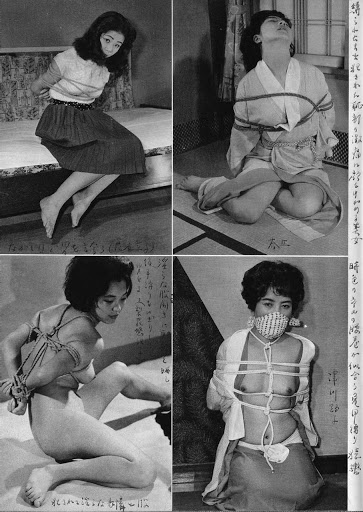 Today, Shibari is immensely popular throughout the Western BDSM context. The art of Shibari has expanded and includes more different styles and variations.
Shibari Misconceptions
One of Shibari's most common misconceptions is that most people think of it as a very complicated bondage art. Most people tend to overestimate the time needed to get into Shibari. However, Shibari isn't all about complex knots and patterns. There are simple things such as the 'Star (Pentagram) Harness' or 'Hishi Karada (Rope Dress),' that you can conveniently learn within a few hours.
Another misconception of Shibari is that it is all about erotica and sex! According to Kitty Killin, a Shibari practitioner, "Rope can be used to spice things up in the bedroom, but it's not only that." She further says, "When I self-tie, my rope is a means for meditation: when I build installations, rope is my medium; when I perform, rope is my apparatus."
Additionally, she states that though Shibari may look challenging, it is quite an accessible bondage practice in reality. And anyone interested in spicing things up can do it! You can also customize Shibari the way you like. From choosing rope varieties to the range of mobility, or any other add-ons, it all depends on you and your preference!
Should I practice Shibari?
According to Rev. Rucifer, the founder of Reiki Bondage, Shibari may help build trust between partners artistically and more intimately. It may also offer a feeling of renouncement.  If you're someone who has already tried some kind of bondage and loved the experience, there is no doubt that you'll love Shibari as well! People practice Shibari for several reasons. While some enjoy the way the rope feels on their body, others are more about the intimate connection the rope creates. Some people also practice Shibari to give or take pain as part of a classic BDSM scene. There are huge communities of Shibari enthusiasts all around the world. A great way to try out new sexual fantasies is with a casual sex partner. Thanks to the internet you can find fuck buddies easily with free local hookup dating sites. Some of these adult dating platforms are specifically for those interested in BDSM and others allow you to search for partners with similar fantasies or sexual preferences. Either way you can surely find a partner to explore new passions with.
Kitty Killin further adds that you can use the rope for many reasons, including creating sensations, restraining your partner or yourself, or simply trying out new sex positions. However, Shibari isn't limited to just sex. Just as Rucifer says, Killin also claimed that tying someone or being tied up can eventually lead to building an intimate connection between couples. She states that couples can practice Shibari to learn more about their partner's body and trust-building purposes. Killin says, "You'll learn what feels good and what doesn't." Hence, whether you want to explore the sexual aspect or want something more emotional and intimate, Shibari can satisfy any bondage needs!
Basic Shibari Terms
Here are some of the most common terms used in Shibari:
Rigger/ Rope Top – Person who ties the other person
Rope Bottom/ Bunny – Person who is tied up
Self-Tie – When a person ties themselves
Floor Tie – Ropework done only on the floor
Tension – the tightness created in the rope to give the tied person a feeling of restraint/ bondage
Single column tie – knot on a single body part such as leg, wrist, waist, ankle, etc.
Double column tie – tying two body parts together such as ankle to ankle, wrist to wrist, ankle to writs, etc.
Before practicing Shibari
No doubt, Shibari is a type of bondage that anyone can try. You can easily watch Shibari tutorials online or read books on Shibari and learn how to perform it. However, remember, Shibari does possess some risk as it involves tying the human body, which may lead to injuries and nerve damage if not done properly. Hence, it is crucial that you take up some courses or look into rope bondage safety measures before getting into it. You can also set some boundaries and limitations for you and your partner.
You can find massive communities of Shibari enthusiasts throughout the globe. Thus, if you are just a newbie and want to dip your hands in the art, it wouldn't be difficult for you to find someone with similar interests! However, whether you perform Shibari on yourself or with your partner, make sure to remain safe. Learning the depths of Shibari will take tons of practice and patience. Keep practicing and explore the creative side of you with Japanese Shibari!